Alexandria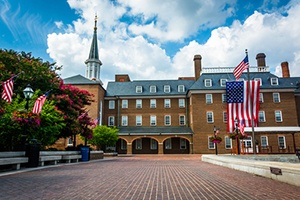 Alexandria is the primary suburb for Washington DC. Although it is pretty obvious that government is a major employer, there are others as well. You will find within Alexandria any number of nonprofit organizations, consulting firms, and nongovernmental agencies. These employers have highly intelligent workers who have a definite need for group legal plan support. Incidentally, help with government agencies is not the only pre-paid legal services benefit these people need.
High Cost
There is no scarcity of attorneys in Alexandria. It wouldn't be surprising if this was one of the largest job categories in the city. However, in Alexandria a lawyer is rarely inexpensive. They can charge exorbitant hourly fees, making it difficult for any ordinary person to use one. As you can imagine in a city full of legal counsel the contracts are very sophisticated. These can be hard to understand and a group legal plan can provide needed interpreting assistance.
The cost of living in Alexandria is sky-high. It is quite possible for any person to get into problems with their financial wellness. Family budgets can be stretched to the max and simple grocery bills and credit card debt can be high. The metropolitan area is full of colleges and universities. Graduates will take jobs in Alexandria but they are saddled with college loan debt. Here again, financial wellness could be jeopardized.
Employers want to hold onto good talent and this requires superior benefits. Employees expect standard items such as healthcare and life insurance. However, they need help to deal with day to day emergencies and problems brought on by living in a high-cost city. Pre-paid legal services and financial wellness counseling are benefits that employees greatly appreciated. They are plans which Countrywide Pre-Paid Legal Services offer.
Numerous Options From Which to Choose
Countrywide offers more than just one benefit option. We fully understand that people need a variety of group legal plan services, and we provide exactly that. Anyone who has trouble with consumer protection can find the right kind of help with a Countrywide lawyer. Simple but very important activities such as drafting a will or medical power of attorney are things that Countrywide legal experts handle easily.
A financial wellness program is tailor-made for a plan member. Our financial wellness program is something that young employees and those with families can especially use. Our counselors are able to help people develop workable budgets, find ways to deal with college debt payments, and place credit card debt under control. The help reduces stress brought on by financial anxiety.
Nobody wants a lecture and our lawyers and counselors do not preach sermons to anyone. Whether it is a group legal plan member or someone associated with a financial wellness program, the person is treated with respect. All questions are answered because each question is important. We do the very best we can to provide the highest quality of service.
We help employers better respond to the needs of their workforce. Countrywide has worked with all kinds of organizations and we know that each one has a different population of employees. By allowing employers to choose what benefit options are part of a plan, we love the flexibility necessary to provide what is truly needed. It helps employers to show their appreciation to hard-working employees who, in turn, respond with greater loyalty.
Alexandria is a great city but living there comes with a price. Work itself can be very demanding with a lot of high stress and considerable anxiety. Countrywide can help reduce these mental burdens by providing the kind of pre-paid legal services benefits to best help people with problems. We have a number of options from which to choose. We encourage Alexandria employers to contact us about our benefit programs. Countrywide firmly believes the best possible service is what we provide to every client, and we are committed to that overall goal.