Personal Legal Protector Plan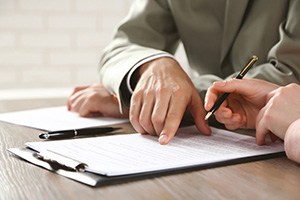 Modern society appears to swim in a sea of paperwork. In the next year, 37% of American employees will face legal problems, some of which are major concerns and some are matters that require carefully structured resolutions steeped in legal language. These problems could include divorce or legal separation, child custody or child support issues, traffic violations or issues with government agencies. Less than 1 in 10 of those same employees will consult an attorney, because their employer does not have a group legal plan. Whatever the problem that requires legal assistance, a labor union can help its members obtain affordable legal representation for a variety of matters with a voluntary benefit designed by Countrywide Pre-Paid Legal Services.
Since 1987, Countrywide has been assisting employers, unions, individuals and other groups by providing cost-effective legal plans that are highly practical and very user-friendly. Our Personal Legal Protector Plan is a voluntary benefit designed to offer comprehensive legal coverage through a nationwide network of skilled attorneys. Plan members can contact an approved firm in their area to receive advice on a number of legal issues and to accomplish several legal tasks, such as Contract/Document Review or Preparation of Wills and more.
We Offer Tailored Plans for Your Needs
It can happen that the group legal benefit does not contain a particular service. If your union requires a specific benefit that is not included in our Personal Legal Protector Plan, Countrywide can also tailor a group legal plan that is crafted specifically for a particular union's membership base. It is possible that members of a union will face specific legal issues more frequently than other groups, and labor management would like to include a benefit that does allow our plan attorneys to assist with those issues. Or, maybe the decision-makers would like to offer a very basic plan that only provides for Preparation of Wills because the membership is largely concerned with this issue over others. Neither of these are a problem for Countrywide at all.
In either case, we can help a union decide which group legal plan works best for the needs of its membership. Additionally, we can help any union figure out a funding option that makes the voluntary benefit plan most affordable, whether it be paid for by the union or directly funded by the members. You can even include the cost of the plan in your annual membership dues structure.
What is always a part of the Countrywide voluntary benefit is excellent service. Countrywide believes that every member of a voluntary benefit plan is very special. Our attorneys provide the same courteous customer service to every member who needs help. This means patient explanation of all the details in language that is easy to understand. Benefits such as unlimited telephone calls and letters written on behalf of the plan member are all part of the personal attention that is to be expected. Countrywide takes a great deal of pride in the customer service offered as part of a group legal plan we design. Everybody has a right to respect and that is what we give freely.
Countrywide has worked with all types of organizations since 1987, and that includes all kinds of labor unions. We have worked with skilled labor unions, those in the public sector, as well as general labor. The size could be very big or very small, and it doesn't matter. The same kind of service is given in any of the voluntary benefit plans we prepare. We work the decision-makers to develop the kind of group legal plan that generates the most service for union membership.
To find out more, call us toll-free at 1-800-550-5297 or fill out our contact form for a speedy response.