Partner Company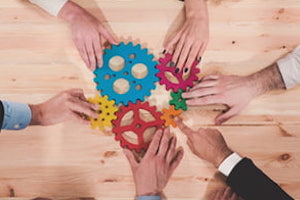 Partner with Countrywide for solutions and valuable benefits that help your customers and clients.
Our plans are offered to many types of organizations and we welcome relationships with partner companies who wish to offer our services as white-label products. Any of our plans can be customized and packaged with other products to be offered to your customers under your own brand. By offering Countrywide's services to your clients, you can be confident that they are not only receiving high-quality benefits, but also high-quality customer service.
Our Legal Plans provide members with access to a network of credentialed attorneys to assist with various legal matters. Covered areas include: estate planning, family law, personal injury, real estate matters and many more. Members will receive various benefits such as phone consultations, face-to-face consultations and document review. The benefits of the plan are customizable to suit the unique needs of your client base. Countrywide requires attorneys to have a high level of emotional intelligence. Legal matters can be sensitive and emotional for parties involved and our attorneys will listen to a member and offer advice for their specific situation.
Countrywide also offers a variety of Identity Theft and Credit Monitoring Plans to suit the needs of various groups. Each plan provides a different level of protection, however all of our plans include valuable benefits, such as Credit Monitoring & Alerts, $1 Million of ID Theft Insurance, Synthetic ID Theft Monitoring, SSN Alerts and ID Theft Fraud Restoration Services.
Our more comprehensive plans include added benefits, such as Family Protection, Criminal Records Monitoring, Enhanced Credit Reports and Credit Score Change Alerts.
Members of the Identity Theft Plans can feel more secure knowing their accounts and identity are being closely monitored for fraudulent activity. Members are immediately notified of such activity and have access to experts and tools to help them restore their identity. Identity theft is on the rise and no one is immune to a hack, making an Identity Theft Plan a valuable part of any benefit package.
Individuals may also be struggling financially and our Financial Wellness Plans are a great way to assist them. Members of this plan work with certified counselors to solve their financial problems including medical debt, student loan debt and credit card debt. The counselors will examine a person's budget and take inventory of a person's assets. They can also negotiate with creditors to work out a payment plan.
The Financial Wellness Plan also assists members who are buying a house and may be unfamiliar with the process. Members have access to a self-study course called "Make Your Move" which familiarizes them with real estate jargon, types of loans they qualify for, how to get approved for a loan and more. Members may also need assistance with saving for the down payment or figuring out what monthly payment they can afford.
We look forward to learning more about your group and partnering with you to provide these valuable and affordable benefits to your members. We welcome the opportunity to explain our plans further and answer any questions you may have. Please contact us at your earliest convenience. Call us toll-free at 1-800-550-5297 or fill out our contact form for a prompt response.