Employers and Human Resources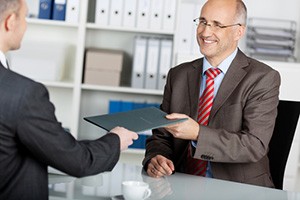 Smart managers know that it's not enough to just provide any kind of benefit to employees. An intelligent workforce knows whether or not an employee paid benefit is worth having, and they are not going to spend any money to pay for a benefit that isn't much more than window dressing and provides little assistance. There's got to be a solid return on investment with great services for every penny spent. Countrywide Pre-Paid Legal Services' Legal Plans, Identity Theft Plans and Financial Wellness Plans do exactly that.
Employees need to have the kind of service that helps them work through issues like adoption, landlord – tenant issues, and disputes over property. Countrywide has a number of services that can offer assistance in these matters, as well as drafting a will, immigration issues, and other problems that take employees concentration away from productive work.
Legal issues are not the only cause of decreased productivity at work. On average, it takes victims of identity theft six months and 200 hours of work to recover their identities. They are likely to miss work for appointments at the bank and Social Security office. When the employee is at work, they are likely stressed and distracted. They may be wondering what steps they need to take next, or worrying that their information is still being fraudulently used. Countrywide offers four levels of identity theft protection, which alert members of suspicious activity and provide them with Identity Restoration Specialists who walk them through the steps they need to take to restore their identity.
Half of U.S. employees also stress about personal financial matters and it's costing businesses half a billion dollars per year. Countrywide Financial Wellness Plan members have access to certified counselors who assist with budgeting, debt management and more. These counselors provide the tools for members to get back on their feet and stay there.
Any employer wants to have an employee paid benefit that is not going to be a pain the neck to administer. Countrywide wants to make things as easy as possible and our group plans include some of these attractive features for employers:
NO Minimum Participation
NO Administrative Fees
NO Claim Forms for the company or the employees
NO Work Related Coverage for the employees
Human resources is always sensitive to the needs of employees, and wants to be assured that every one of them is treated with courtesy and respect. Countrywide agrees with that type of empathy, and the lawyers and counselors in our network have extensive knowledge in their fields as well as superior personal skills.
We've been providing companies with voluntary employee benefits since 1987 and we know that employers come in all types. That is a reason why we offer flexibility in structure so that an employer can better create a plan that suits the needs of the employees. With our plan options, you can tailor your benefits package to meet your employees' ability to pay as well as your company's desired fiscal involvement. Countrywide provides three very attractive alternatives:
A plan fully paid by employees through voluntary payroll deductions
A plan partially paid by employees and employer
A plan fully paid by employer
Plan administration is incredibly easy and Countrywide's plans fit in with any comprehensive employee benefit program. That is something any human resources department would want to have, and once in place the Countrywide plans will result in:
Reduced Presenteeism (present employees who are mentally distracted)
Reduced Absenteeism
Increase Productivity and Retention
Low Cost Benefit
Countrywide staff will be made available to hold either one-on-one sessions or group meetings to inform employees about the benefits of the group legal plan and answer any questions. We conduct these meetings during open enrollment periods, or whenever it is most convenient.
Most employees use their legal plan 4.2 times a year. Countrywide guarantees that your employees can have the service of a highly qualified professional when the need arises, and before a situation becomes a problem. To find out more, call us toll-free at 1-800-550-5297 or fill out our contact form for a speedy response.