Advice on Government Programs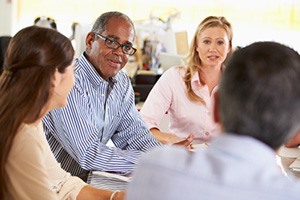 There are hundreds of government programs, and each one has its own set of procedures and policies that have to be followed in order to get service. Programs like Social Security, Veterans Affairs, or even those that should be less complicated like the Bureau of Motor Vehicles require a frightening number of forms and requirements. The fine print and complicated language make for very tired eyes and a sense of hopelessness for those who need government service. There is a lot of bureaucratic red tape that can easily be cut through with the assistance offered by a group legal plan.
An employee paid benefit like our Personal Legal Protector Plan gives members access to a network of highly qualified attorneys. As part of what a Countrywide group legal plan provides, these lawyers can offer expert advice on all the various government programs and the benefits that pertain directly to you. They can go over what appear to be very complicated instructions, and explain what are the best ways to apply for various government services. What seems to be a maze of legal terms becomes clearer as the attorneys associated with the group legal plan describe the details step-by-step. Any employee paid benefit ought to have superior customer service. All of the advice is therefore given with sincere empathy and understanding of a member's situation. Countrywide Pre-Paid Legal Services expects such member friendly assistance from all of the attorneys in our network, and we select for our group legal plans only those who have demonstrated superior personal skills.
Government agencies come in different categories: federal, state, and local administration. Each level addresses even the smallest matters in the greatest detail and that can be maddening. This is made even worse when for the proverbial "lack of a horseshoe nail" one element of an application is forgotten, and the whole process has to be started once again. The attorneys in the Countrywide Pre-Paid Legal Services network understand such frustration. They patiently provide insight at every level of government, working to be sure that you are not accidentally tripped up by a technicality, and that all documents are properly completed and filed. Indeed, help with the applications for government benefits is perhaps one of the most attractive features of the employee paid benefit Countrywide offers.
Reduce Wait Times and Save Money.
Time is important and the wheels of government sometimes move far too slow. That's one of the reasons why a group legal plan can be so helpful. Legal assistance from an attorney reduces the amount of time spent in getting application process or benefits delivered. Lawyers understand how government operates and how to secure from a bureaucrat what is needed without jeopardizing an application. These practitioners of the law are familiar with the language of various jurisdictions, and being able to speak in the same vernacular of civil servants just makes things go quicker.
Human resources departments welcome the fact that a Countrywide group legal plan can be an voluntary benefit without a lot of administrative work or attention. They also appreciate knowing that any plan member is treated with courtesy and respect by lawyers associated with Countrywide. We have been in the business of making government procedures easier to follow since 1987, and we have exactly what an employee needs to navigate the bureaucratic canals. Our attorneys have helped countless numbers of people get the kind of benefits they are entitled to from government. We also provide the easy administration that human resources management would like to see in any benefit.
We're happy to answer any questions regarding a need for legal services. To get started, call us today toll-free at 1-800-550-5297 or fill out our contact form for a speedy response. Our competitively priced legal plan is a benefit that will quickly pay for itself multiple times over. Call us today!