Face-to-Face Consultations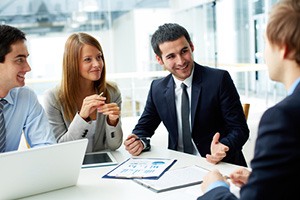 Any member of our group legal plan has the right to expect excellent customer service. It is the unwritten feature of a good legal benefit and it is extremely important. People are flustered when it comes to legal terminology and situations that involve the court system. Attorneys who are sensitive to the state of mind of a plan member are the kind of professionals who provide the best type of legal benefit. That is what we expect here at Countrywide Pre-Paid Legal Services.
We insist on it because rapport is so important. Sensitive family matters that result in legal actions require a personal connection with an attorney to be productive. Face-to-face consultations mean more than telephone calls or emails. We offer such meetings as part of our Personal Legal Protector Plan. Anyone who is a member of a group legal plan designed by Countrywide has the opportunity to consult directly with an attorney who is part of our network. This legal benefit permits free half-hour face-to-face consultations on separate legal matters. A prior appointment of course is necessary, but during the consultation the plan member is free to ask any question regarding the legal issue. An individual recommendation as to the best course of action will be provided. Such opinion comes from an attorney with a reputation for legal knowledge and exemplary ethics.
A company that values its employees wants to have those hard-working people treated with respect and dignity. Human resources will be pleased to know that the interpersonal skills of our attorneys results in employees who are not complaining bitterly about treatment. Group legal plans don't always provide such sensitivity, but we screen attorneys to be certain that their communication skills are as good as their legal expertise. Because such empathy helps to resolve a problem, we feel it is a legitimate legal benefit that is to be a part of our group legal plans.
Management also be pleased to know that the Countrywide Personal Legal Protector Plan is designed to offer the most comprehensive and practical legal services possible. Our attorneys are skilled at dealing with a number of legal matters, including family law, consumer protection, warranties, small claims court, living wills and medical powers of attorney, simple wills, government programs and much more. Most services are free with plan membership and we also offer discounts on referrals for legal matters not covered under the group legal plan.
We Respect Your Security and Your Privacy.
Privacy and security are top priorities for Countrywide. Our network of lawyers will provide a discreet, thorough legal benefit for family and personal legal issues. A plan member's information will always be kept confidential and no one will have access without express permission granted first.
Countrywide designed group legal plans to fit the needs of organizations. We are flexible enough to tailor any benefit so that it is exactly what is needed for the work force. Our plans are easy to administer without excessive amounts of paperwork being required. If it is the wish of the employer, we will be happy to set up a voluntary prepaid payroll deduction plan that makes the process even easier. Countrywide Pre-Paid Legal Services works to provide the very best benefit for a given employer. We have worked with all types of organizations since 1987 and we are comfortable with all kinds of demographics. Every plan comes with the commitment to empathy and superior customer service. Any organization will be assured their employees will receive nothing less than that.
To find out more, call us toll-free at 1-800-550-5297or fill out our contact form for a speedy response.
1. In Virginia, consultations with your attorney, at no charge, are limited to three phone calls per month on each of no more than four legal matters. 2. To comply with state regulations, Arkansas, Indiana, Nebraska and Virginia residents must pay $5.00 for each letter or phone call made on their behalf. New York residents are limited to three letters or phone calls a year, no more than two of which may be related to one matter. 3. In New York, members and spouses are each entitled to one free will and annual updates of that will. Arkansas, Nebraska and Virginia residents are charged $15.00 for this service. 4. In Virginia, face-to-face consultations with your attorney, at no charge, are limited to four legal matters per month. Note: This Legal Plan is not insurance. Professional, business or investment related activities along with fines, court costs, penalties, disbursements and other related expenses are not covered under this plan. Certain other exceptional matters, such as matters between people, groups, associations, unions, credit unions, employer-employee, work-related or employers associated with the legal plan, appeals, class actions and repetitious matters where circumstances have not substantially changed, are also not covered. Please refer to your Certificate of Coverage for specific coverage and exclusions. This brochure is for illustra- tive purposes only. The Plan is subject to all state and local approvals, rulings, filings, regulations, etc.