Unlimited Telephone Consultation & Advice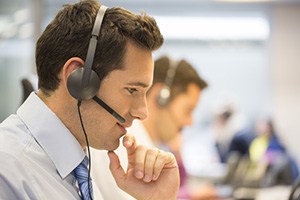 Legal issues can be very unsettling for the average employee. This hard-working person isn't familiar with all of the procedures and legal language that are part of so many disputes, and is understandably frightened. Countrywide Pre-Paid Legal Services has worked with employers since 1987 to design group legal plans with the individual in mind. We firmly believe that anyone who is a member of an employee paid benefits plan has the right to expect a little something extra. We see to it that members have a chance to take advantage of some really important legal services.
Perhaps one of the most useful group legal benefits of our Personal Legal Protector Plan is the direct access to Unlimited Telephone Consultation and Advice from our network of top-tier attorneys. This is something that many people take advantage of as part of the employee paid benefits their company offers to cover the need for legal services. This is intentionally made as simple as possible. As a group legal plan member, any employee has the right to call any of our plan attorneys as often as needed for advice on legal problems. Our members require legal consultation and advice for countless issues, and our lawyers commonly advise clients who:
Are buying homes and need documents reviewed and an attorney present at closing;
Are deeply in debt and need advice on bankruptcy and other related issues;
Are experiencing leaks or other problems with a newly installed roof or windows;
Need updates to outdated wills;
Are leasing apartments or cars and need a lawyer to review the lease;
Are considering writing a will;
Have minor children and are trying to decide if they should start a trust;
Are the executors of an estate;
Are separated and unsure of parental rights;
Are unable to make mortgage payments and are facing foreclosure;
Have been the victims of identity theft;
Have been in auto accidents or gotten speeding tickets;
Are having to deal with immigration issues and more
Legal professionals will respond quickly and it doesn't matter whether the issue is routine or serious. The attorneys who are part of an employee paid benefits plan designed by Countrywide are expected to show the same level of courtesy and expertise. These lawyers are screened for their knowledge, but their interpersonal communication skills are just as important to us. Management can expect that their valued employees will be treated as adults and not as some case file to be stored in a cabinet. Human resources can be assured that a Countrywide employee paid benefits plan is very easy to administer.
We take great pride in the service the attorneys provide. Traffic violations, child support, visitation rights and other issues can often be resolved just by making a call to one of the lawyers in the Countrywide network. If an employee needs further assistance, it is not a challenge for us at all. Additional help can be provided at reduced rate hours, scheduled fees, or fixed prices for comprehensive legal representation. These can be part of any group legal plan, and we would be more than happy to work with an employer to develop just the right legal service for employees.
Employees should not have to be stressed out over minor legal matters. Countrywide works with some of the best and brightest legal minds in the country, who can offer help with even the most complicated family or personal legal matters. All of the services come with a compassionate understanding of the anxiety an individual is experiencing. We encourage human resources directors and executive management to give us a call to find out about the Countrywide group legal plans.
To find out more, call us toll-free at 1-800-550-5297 or fill out our contact form for a fast response.