Preparation of Simple Wills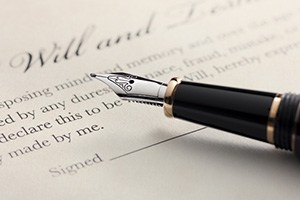 Death is something no one wants to think about it, but an estate is a matter that everyone should plan. The security of survivors, particularly any children, ought to be a concern for any employee. Unfortunately, it isn't and that is why so many people die without a will (intestate). This can introduce loved ones to the legal maze known as probate court and that can take months to navigate. No one really wants to have his or her survivors endure that, and one of the most widely used services of our group legal plan at Countrywide Pre-Paid Legal Services is the Preparation of Wills.
The importance of having a will cannot be understated. Younger people can die just as easily as senior citizens, and dividing up the estate is made a lot more difficult without that document. Surviving family members are required to deal with a court appointed individual who oversees the estate and will have to pay a bond. An employee paid benefits plan that covers preparation of a will allows a person to have estate matters prearranged, making court intervention less of an issue. Drafting a will is the legal service that is most commonly used within group legal plans.
Simple Wills
Our Personal Legal Protector Plan is a legal services benefit that Countrywide offers that provides a substantial service. As a plan member, you will be able to use our network of qualified attorneys to prepare a simple will for you, your spouse and your dependents at no cost to you*. Don't always assume that your assets will go to your spouse—if you have children or other dependents, the division of your estate will likely be split up amongst all parties. Simple wills outline the distribution of your assets at the time of death.
Drawing of a will is a positive step, but having a will is not enough. You must also keep it updated as things change in your life (i.e. marriages, divorces, births, adoptions, etc.), so that you can rest assured that your matters will be taken care of the way that you see fit. Our employee paid benefits plans offer free annual updates* as a part of your group legal plan to help keep your will up-to-date, including who is to be the executor and who will be the beneficiaries. Composing a will is extremely important and it is never too soon to prepare for the future. The attorneys who are part of the Countrywide network in our group legal plans can help you do so quickly and easily.
Living Wills and Medical Powers of Attorney
Drafting Living Wills and Medical Powers of Attorney are two important services that our attorneys will provide as a part of our Personal Legal Protector Plan. Not to be confused with Living Trusts (which are alternatives to standard wills), Living Wills are legal documents that outline your wishes for being placed on or removed from life support and other medical and end-of-life considerations. Living wills define a very narrow set of circumstances that must be declared in order for your loved ones to take care of you properly and according to your wishes.
Similarly, Medical Powers of Attorney are documents that allow you to charge the decision-making process to a designated or specific person or persons who will make the medical decisions on your behalf in the event you are incapacitated or otherwise unable to do so.
Perhaps the thought of death is the reason why people will delay preparing a will or estate planning. Countrywide appreciates that individual to be nervous, and that is why our employee paid benefits plans are executed with top-notch customer service. The attorneys associated with our group legal plans understand the anxiety, and use a level of empathy that should be expected of any employee paid benefits program. Human resources will be glad to know that company employees are treated as individuals and not statistics. A compassionate approach is something that can be expected from any of the Countrywide group legal plans.
To find out more about our services, call us toll-free at 1-800-550-5297 or fill out our contact form for a fast response.