Who We Are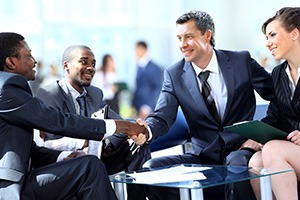 Countrywide Pre-Paid Legal Services was established in 1987 as a concept to provide affordable and accessible legal benefits to people who normally could not afford such needed services. Today, Countrywide Pre-paid Legal Services manages a network of thousands of attorneys and provides group legal plans to corporate and non for profit organizations including clients in the healthcare, financial, manufacturing and biotech industry. Countrywide Pre-Paid Legal Services allows employees access to an extensive panel of attorneys and our group legal plans are offered as part of a company's employee benefits plan.
The attorneys who work with us have a well-established reputation for in-depth knowledge of the law. Legal benefits, such as phone advice and consultations, contract and document review, will writing and important legal services are included in the low monthly fee while more extensive legal services are provided at a significantly discounted fee. What is available at no cost is the Countrywide Advantage.
Which means Countrywide puts the plan member first. We provide superior customer service to anyone enrolled in one of our group legal plans. The attorneys who work with us are experts in their particular fields and provide valuable insights into the judicial process. They do this with a high degree of empathy and respect for the individual. No plan member is ever treated like a statistic or a case file. The attorneys understand empathy and genuine sensitivity are part of the legal benefits Countrywide offers. We will settle for nothing less. These interpersonal skills are a major reason for the positive testimonials and comments we have received over the years.
Our ability to work with employers has also been well received. Countrywide is aware that every organization is unique and that benefits must be tailored to fit the needs of a given workforce. It is why we are flexible in legal benefits plan design, and will provide only those benefits which an employer feels should be part of a comprehensive employee benefits program. Human resources departments want benefits that are of true assistance to employees, and are also easy and efficient to administer. Countrywide takes pride in designing group legal plans that are very easy to operate and do not require extensive paperwork. Furthermore, the funding is left up to the employer. It can be employer funded, employee funded, or a combination of both. Whatever option an employer decides to use is what we will implement.
Employers have found that offering legal services on a voluntary basis to their employees allows the individual to confidentially access attorneys at an affordable rate. It also increases their morale and retention, and has decreased absenteeism by adding a valuable legal benefit to their list of options. Employers are recognizing that their employees have legal situations in their lives and are taking a proactive approach in helping solve those issues. This sensitivity to employee needs is deeply appreciated by the hard-working employees. Countrywide Pre-Paid Legal Services would welcome the opportunity to help relieve these people of anxiety that so often comes with legal issues.
Countrywide has a number of options from which to choose, including ID theft and credit monitoring services to protect a person's credit and confidential information. We would be happy to explain any and all of our benefits, and show how affordable they are and how effective the services can be. We definitely welcome any and all inquiries and gladly answer all questions. anyone may have
To find out more, call us toll free at 1-800-550-5297 or fill out our contact form for a quick response. We look forward to hearing from you and hope that we can be of service to you.