Who We Help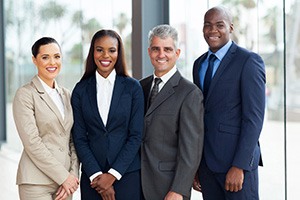 When all the slick advertising and catchy phrases are put to the side, the only reasons to have a group legal benefits plan as an employee benefit are the services provided and the convenience of administering it. If the coverage is poor and the processing is difficult, then the plan really isn't worth the paper it is printed on. Countrywide Pre-Paid Legal Services offers a group legal plan that has great benefits and easy administration. We can provide anyone or any organization with affordable and comprehensive prepaid legal services that cover a multitude of issues.
Employers/HR Professionals
Legal benefits are programs that can benefit everybody in an organization. Employees are going to be confronted sooner or later with legal issues that have to be addressed. These can be minor things such as a rental agreement or a contract. They can also be major items such as the closing on a house or setting up an estate. These matters require a person's attention and cannot be ignored indefinitely. It happens too many times that an individual will have to take time away from work to resolve these problems and that will affect productivity. Human resources wants to cut down on absenteeism and also relieve some of the burden that hard-working employees carry. A group legal plan can help human resources assist employees and reduce the rates of absenteeism. These legal benefits also have some other attractive features such as:
Enhancement of your employee package to retain current employees and entice potential job candidates, allowing your organization to meet its goals and maintain high quality levels;
Increase employee productivity by removing outside stress and permitting employees to concentrate more fully on those important projects;
Improve the morale of your employees by giving them great peace of mind and showing that you truly do care about issues that have an impact on their private lives.
EAPs
Our group legal services can play an integral role in your Employee Assistance Program, providing additional resources for the legal component of any employee issue.
Individuals/Associations/Credit Unions/Labor Unions
Companies are not the only entities that can take advantage of a Countrywide designed group legal plan. The legal benefits can extend to groups and individuals. For individuals, we offer plans that provide real solutions to dealing with pressing matters of divorce, wills, real estate and countless other issues. For associations, groups and unions, we will gladly tailor a legal benefits plan for your specific needs to ensure maximum benefit to your members. You just have to let us know what you would like to have in the group legal plan. We can administer your existing Union Legal Plan.
Brokers/Consultants
Brokers and consultants want to provide their clients the best possible benefit options. We have had a working relationship with these professionals for years, and we can design exactly what the companies they represent wish to have. Best of all, as the plan carrier we can deliver the group legal plans directly to the customer base without charging administrative fees or insisting on minimum participation requirements.
Attorneys
Our network of experienced attorneys is comprised of some of the best and brightest legal professionals in the nation. These legal experts are screened for their knowledge and their customer service skills as well. We welcome those attorneys who have established legal expertise and high quality personal skills to join our network and meet our rigorous standards.
Call us today to find out how Countrywide Pre-Paid Legal Services can help you. We can be reached toll-free at 1-800-550-5297 or you can fill out our contact form for a fast response.