Review of Contracts & Documents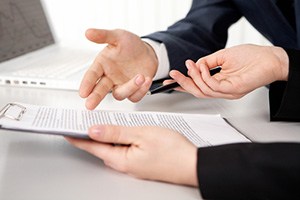 It is a fast pace world, and people may times do things more quickly than they should. That is one of the problems that arise with leases, contracts and other agreements. People often sign in a hurry on the dotted line without realizing what it is they have committed themselves to doing. It isn't until a little while later they find out they have made a big mistake. It would've been better if they had some form of legal benefit which could help prevent such consequences. With our Personal Legal Protector Plan at Countrywide Pre-Paid Legal Services, a person can have a group legal plan where qualified attorneys can review both contracts and documents to protect a plan member's interests at all times.
We understand that many people worry that a legal benefit will cost a lot of money. That should be no concern at all and it isn't for plan members of any Countrywide designed benefit. As a member of our legal services plan, we offer Review of Contracts & Documents at no charge; it is part of the overall benefit. Our plan attorneys will carefully review most legal documents up to six (6) pages per document, including leases, rental documents, promissory notes, affidavits, powers of attorney and a variety of others. A plan member receives advice regarding his or her protection under most contracts, as well as a recommendation as to whether or not to agree to the presented terms. This is all in addition to the other services that a group legal plan designed by Countrywide will offer. Human resources in particular will enjoy knowing that the legal benefit Countrywide prepares is easy to set up and administer.
The best time to receive legal advice is before any legal document is signed. Even the most straightforward contract can contain terminology that can create major problems later. And it's not always the "fine print," that is the source of the problem. Sometimes, the wording of seemingly innocuous phrases can create a situation in which a person is legally bound to do something or pay for something that wasn't agreed to or expected. Having an experienced professional go through the document is something that should be a part of a good legal benefit plan, and Countrywide has something little bit more.
The lawyers who are associated with us provide excellent customer service. We screen attorneys prior to having them as part of a Countrywide group legal plan and their interpersonal skills is something we seriously consider. Courtesy is the unwritten part of a legal benefit, and we want all of our attorneys to show that to plan members. They will take the time that is necessary to explain the phrases and clauses, noting for the plan member important sections which have to be considered. Anyone who enrolls in one of our group legal plans should know that they are considered as a very important person, and will be treated with the utmost respect. It's just one of the reasons why a Countrywide legal benefit is so well received.
Countrywide is also flexible enough to craft whatever benefit an organization wants for its workforce. We can show human resources and executive management the many ways that our group legal plans can really assist employees, and would welcome such an opportunity.
To find out more, call us toll-free at 1-800-550-5297 or fill out our contact form for a speedy response. We look forward to answering any questions you may have and our helpful and knowledgeable representatives can help get people signed up for our Personal Legal Protector Plan today.