Housing Education Will Help Find Your Dream Home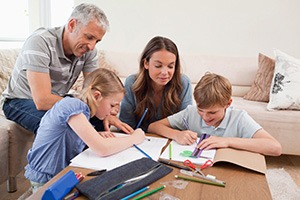 Money Magazine recently printed a story about the housing market in the United States. The good news is that housing is back, and new home sales are the highest they have been since the 2008 housing season. The news comes as a shock to some people because they think that the market is still in the basement. Do not believe that at all. A real estate agent is going to tell you that now is the right time to go looking for a house.
Lack of Knowledge Makes Buyers Nervous
What holds many people back is a lack of understanding when it comes to the financing of the home. This is particularly the case with somebody who is a first-time buyer. These folks do not know much about real estate, and the sizable mortgage can frighten them. Countrywide Pre-Paid Legal Services is sensitive to the educational needs of these consumers. Our financial wellness program includes housing education as a benefit option.
The more people know about housing; the more confident they are seeking a new home. Our housing education includes some valuable information such as:
The importance of your credit history in securing a mortgage loan;
How to go about being approved for a loan;
What predatory lending practices are, and how to avoid them;
The information you need to supply the lenders;
The kind of loans that you may qualify to receive.
This is just some of what you will be exposed to in our "Make Your Move" homebuyer education course. You learn about all the players who are participating in a home purchase and some other crucial pieces of information about how to properly purchase the house.
Education Builds Confidence
Financing is always in the minds of the consumer. There still are people who are worried about their current mortgage and fear that they may have to go through foreclosure. Countrywide has certified housing counselors who can assist. As part of our financial wellness program, these counselors are going to provide the kind of help a person needs to maintain financial integrity. There are a number of ways that foreclosure can be avoided, including loan modifications and short sales. These are topics that are covered with plan members. Naturally, a person feels less stressed when he or she discovers that foreclosure or bankruptcy are not the only ways out of a jam.
Organizations can look at this as one of the better benefits to offer employees. Housing is always a concern and is a mystery to quite a few people. It is sincerely appreciated when an employer thinks outside the box and provides real assistance. Housing education is a service that brings lots of relief to hard-working employees. This kind of support creates the employee loyalty that any management wants to see in the workplace.
A home should be a dream come for anyone. It does not have to be a financial nightmare. The educational assistance the Countrywide financial wellness program will provide is a means of making a dream become a reality. The more you know, the better your home buying experience is going to be for you. Countrywide can fill in the gaps, making you a more knowledgeable house hunter.