Platinum Identity Theft Protector Plan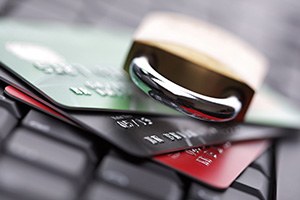 Hacking is serious business for some folks. They hack into supposedly secure platforms and go on an information looting spree. Major banks, hospitals, and, recently, social media platforms have been victims. You will probably not know you are a victim until you receive your statement at the end of the month. By that time the thief is long gone and your financial nightmare is just beginning.
It can take months, even years to clean up your credit after you've been the victim of identity theft. With our Platinum ID Protector Plan at Countrywide Pre-Paid Legal Services, Inc., you will have access to all the tools you need to monitor your credit to prevent identity theft as well as repair your credit history after a breach of security.
The Platinum ID Protector Plan is the highest level of protection we offer, including a variety of useful benefits:
$25,000 of identity theft insurance
3 Monthly Credit Scores (ExperianTM, EquifaxTM, TransUnionTM)
24/7 Daily Credit Monitoring with email alerts (ExperianTM, EquifaxTM, TransUnionTM)
Monthly Credit Score Updates
ExperianTM, EquifaxTM, TransUnionTM Credit Reports
ID Restoration Services with Dedicated Case Manager
Monitoring & Alerts of Compromised Data
Credit Dispute Assistance & Advocates
Fraud Alerts
Credit Score Tracker
Criminal Record Monitoring
Financial Data Protection
Monitor for Inquires
Monitor for Address Change
Monthly Newsletter with useful tips and information
Monitor for New Accounts
Monitor for Public Records
Lost Wallet Protection Replacement Assistance
Free Customer Support to answer questions about information found on consumer credit reports, how to correct any inaccuracies found on a credit report, how to file a credit dispute and more.
Access to the exclusive "Members Only" section of NationalCreditReport.com featuring unlimited access to credit reports, credit scores and credit monitoring alerts, our special "Members Only" deal center and much more
One of the most valuable assets of the Platinum ID Protector Plan, our identity theft insurance covers the related costs incurred as a result of a violation of your credit. These benefits cover the reasonable and necessary costs of:
Re-filing applications for loans, grants, etc. that have been rejected as a result of a stolen identity
Notarizing affidavits, telephone calls and postage relating to efforts to rectify your records
Fees and expenses of an approved attorney and more
In addition, you will also receive $500 per week for lost wages (for up to 4 weeks within the first 12 months of discovery) upon approved claim. Best of all, there is no deductible to pay. What you also get, at no additional cost to you, is superior customer service. Countrywide understands how panicked the victims of identity theft become. When you use the Customer Support, you will be connected to someone who will treat you with respect and empathy. You will receive the information you need to bring a serious emergency to a close. That is a benefit everyone in this cyber-age needs when hackers are poised to strike.
To find out more, call us toll-free at 1-800-550-5297 or fill out our contact form for a speedy response.