Premier Plus Identity Theft Protector Plan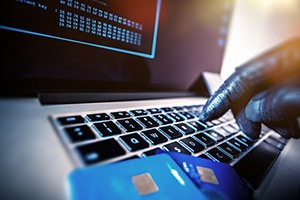 People enjoy doing business on the Internet. It is so convenient to shop at home, and trusting your credit card information to a reputable web platform makes things easier. Hackers are glad you shop online. It makes it easier for them to steal your data and sell it to someone else. Your credit card information, or any other personal material you share with a website, can be used by hackers to rob you blind.
Once you discover your information has been compromised, you have to undo all of the damage. It is not easy and takes considerable time. Your credit scores may drop and your ability to secure a loan becomes harder. Countrywide Pre-Paid Legal Services is here to help you.
Designed to be both affordable and beneficial, our Premier Plus ID Protector Plan offers a variety of features that help you stay on top of your credit history to prevent identity theft. This plan can also help you reconstruct your credit in the event that you do fall victim to an identity crime. You'll receive benefits such as:
Credit Bureau Reports and Credit Scores (annually from 3 bureaus): Receive unlimited online access to your 3 bureau credit reports and scores with your own dashboard
24/7 Credit Monitoring & Email Alerts: Active credit monitoring & alerts for public records, derogatory payments and new accounts
$1,000,000 of ID Theft Insurance: Reimbursement for lost wages up to $1,500/week for 5 weeks, legal fees, expenses and stolen fund reimbursement
Dark Web & Internet Monitoring: Globally searches the dark web for use of SSN, name, email address and mailing address in over 25 languages and will notify you of suspicious activity
ID Theft Fraud Restoration Services: Get assigned to a U.S.-based fraud restoration specialist if you were to become a victim of identity theft
Application Monitoring & Alerts: Monitors millions of transactions in real time for attempts to use your SSN on an application or ID authentication
Change of Address Monitoring & Alerts: Monitors the National Change of Address database at the USPS and alerts you if a request is received to change your information
Checking Account Reporting: Know if your checking accounts have been reported for unpaid fees, overdrawn accounts, suspected fraud, etc.
Synthetic ID Theft Monitoring: Tracks your SSN for any evidence of synthetic ID theft where your SSN is used with someone else's name
SSN Alerts: Monitors your SSN for attempted abuse in association with an application or ID authentication
Lost Wallet Protection & Replacement Assistance: Take immediate action to cancel and replace cards before they can be used and get help with filing police reports
File Sharing Monitoring & Alerts: Monitors the file sharing networks that may be used by identity thieves to sell or share identities
Opt Out (Junk Mail/Do Not Call List)
Online Knowledge Center: Knowledge base of educational articles, tips and more
At Countrywide Pre-Paid Legal Services, Inc., we understand that becoming the victim of identity theft can be scary and the process to rebuild your good name can be even more daunting. With our Premier Plus ID Protector Plan, you can rest assured that your credit is being monitored at all times to quickly identify suspicious activity on your bank, credit card, loan or other financial accounts.
Additionally, you can take full advantage of complimentary services, such as our customer service support center to get reliable answers to all your credit questions and you can take advantage of our generous $1,000,000 identity theft insurance if your credit is ever infiltrated.
Identity theft is a crisis and it should not be allowed to devastate your good financial reputation. The Premier Plus ID Protector Plan will help you rebound from what could be a sizable disaster. Our services are intentionally designed for quick response. You get the help you need as soon as possible from Countrywide.
To find out more, call us toll-free at 1-800-550-5297 or fill out our contact form for a speedy response.